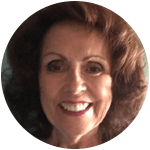 "This is the most caring folks I have met in a really long time, they not only came to my home and picked up a piece of my cabinet that I broke and fixed it and returned it the very same day. The work was excellent. In my home we call these angels, you see I lost my husband a few weeks ago and they did not know this and this made my heart feel just a little bit better on this day. Thank you and God Bless."
Glenda Timmerman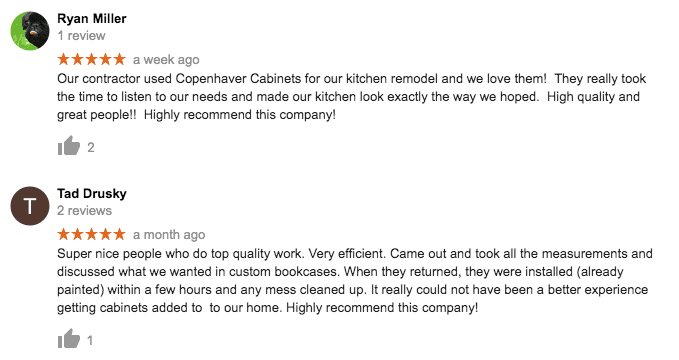 Our Promise From the Owner
What Copenhaver Cabinets Gallatin TN does compared to other cabinet makers to avoid:
| | |
| --- | --- |
| Copenhaver Cabinets | Cabinet Makers to Avoid |
| We offer competitive prices for luxury cabinets you can count on (no surprises). | Expect getting nickeled and dimed with every luxury option you want them to add. |
| Work with a designer to plan and layout your space to make your dreams come true. | You have to be your own designer. No one sits down with you to discuss how you use the space and what works best for you. |
| Our hand-crafted cabinets use only the finest materials for our clients in the Hendersonville, Gallatin, and Nashville Tennessee areas. | Enter at your own risk because you are never sure what quality the final product gives – don't pay attention to the details. |
| True Custom Cabinets built to fit within your space to maximize the use of the space. | Other companies that claim to be semi-custom cabinet builders will use pre-made boxes and fit them as best as possible within your space. This often leaves areas of dead space because there are no sizes that work to fit the space perfectly. |
Quality is not something we would ever consider cutting to lower our cost. But we don't have to because at Copenhaver Cabinets Gallatin TN, we take great pride in providing the best service and product at an extremely competitive price. Our custom cabinetry is built with only the finest materials AND craftsmanship.
We do not only offer cabinetry, we also offer design. We work hand in hand with our clients throughout the entire process to ensure the end result of a quality product. Our in-house designer will share your ideas with complete drafting, modeling, and 3d rendering. Once the design and layout have been approved, our clients continue working with our designer to complete the finished look. While we have many selections available at the showroom, if you do not find one you love, we will provide you with a custom sample, particular to your project at no additional cost to you.
After the layout and selections have been approved, the construction will start. Our hand-crafted cabinets Gallatin TN use only the finest materials for our clients in the Hendersonville, Gallatin, and Nashville Tennessee areas.
We do not stop until you are satisfied. If you are not happy, we are not happy. With our outstanding finishes and hand applied details, we are positive that you are going to find one that you fall in love with.
Those same details are what set Copenhaver's Cabinets Gallatin TN work apart from the rest. We enjoy knowing that our business relationship with customers gradually develop into lifelong friendships. From design to installation, we are here for you.
Cabinets and More
In addition to providing the finest quality custom kitchen cabinets Gallatin TN, we also build bathroom vanities, as well as, custom built-ins, custom closets and furniture design. Our team has significant experience in custom kitchen and bath cabinetry as well as custom built-ins, custom closets and furniture design.
Unique Processes and Quality Measures
Meet and Greet – Whether you come to our office or we come to your home, our first meet and greet will be great. At this meeting, we will get a general idea of what you are wanting to achieve with your space as well as what items and options are most important to you.
Idea and Concept – Once we know what you are looking for, we will start putting those ideas together to create a custom quote for your project. This design concept will be used to create the drawings and design from our in house cabinet designer.
Design and Create – After the quote has been made and agreed on, you will meet with our designer to start the design process. She will help you with the layout of the kitchen and give you the drawings to look at before construction has started. You will also work with her to make selections such as cabinet style and finishes.
Build and Install – We will not start building until you are satisfied with the design and selections. Once we have those items approved by the homeowner, we will start building your new cabinets Gallatin TN.